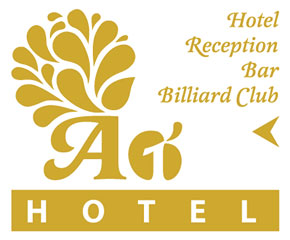 A1 hotel is a new modern hotel in Riga city centre, renovated in 2009/2010. A1 Hotel is great for people who want to be in the middle of all activities – Old town, museums, concert halls, shopping centers are in a 10 – 15 minutes walking distance from the hotel. A1 Hotel is located at the corner of A.Čaka Street and Ģertrudes Street, but the entrance is from Ģertrudes Street. The hotel occupies two top floors of a historic building. There is NB billiard club and Billiards School downstairs – all the hotel guests are welcome to enjoy Pool, Snooker and Russian Billiards.
The hotel staff will kindly provide you with all information you will be interested in and will give you a free city map. You will get information about the events in Riga and we will help you also in urgent cases.
The hotel offers 37 modern and comfortable rooms: single, double/twin, triple, family room.
Each room has cable TV, cable internet access, phone. Budget hotel A1 provides good comfort for a reasonable price.
A1 Hotel is a pet friendly hotel.
Our main target is to make our guests feel like home .
You are welcome to A1 hotel in a center of Riga!
A1 Hotel contacts:
A1 Hotel, Ģertrūdes street 48A,
Riga, LV-1011, Latvia
Phone: +371 67282942, Fax: +371 67455041, E-mail: [email protected]